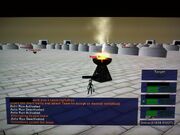 This Quest begins in Chaos Castle with the first Pillar you come accross. It will tell you to light them in order.
The order is: each one you come accross as you climb the castle to the top floor.
Once you have climbed the castle and lit each pillar along the way it opens the wall blocking the stairwell at the entrance so you can walk easily up the castle after completing the quest.
Ad blocker interference detected!
Wikia is a free-to-use site that makes money from advertising. We have a modified experience for viewers using ad blockers

Wikia is not accessible if you've made further modifications. Remove the custom ad blocker rule(s) and the page will load as expected.